Are you a current ZOLL ePCR, Billing, Dispatch or Road Safety customer? Interested in ways to improve clinical excellence with the power of RescueNet ePCR? What about how to improve efficiency with RescueNet Billing or RescueNet Dispatch? Or ways to improve fleet safety and savings with Road Safety? During March, customers presented their top 5 recommendations for each of the products I listed in four, 30-minute webinars hosted by ZOLL. For those of you able to attend and those of you missed it, each webinar is available On Demand now on our website! Find information and links below on each webinar.



Top 5 Recommendations for Improving Clinical Excellence with the Power of RescueNet ePCR
Some of the Key Performance Indicators (KPIs) of an EMS Systems Clinical Performance are difficult to manage without direct oversight of the practitioner. This webinar will review how the Jersey City Medical Center EMS Department has addressed some of these issues using the features available in RescueNet ePCR. Some of these areas include the following:
Improve selection of RSI patients and improved airway success rates through RSI assessments
Selection of hospital destination (closest vs most appropriate)
Assuring the appropriate level of care was delivered to a patient (ALS or BLS)
Ensuring timely activation of hospital alerts for critical patients; STEMI; Stroke; Sepsis; and Trauma
Routing completed calls to the appropriate reviewers to ensure compliance with protocols with ePCR workflow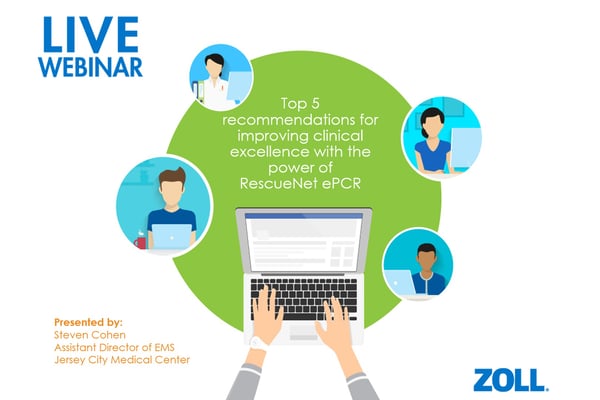 Steven Cohen is the Assistant Director of EMS for Jersey City Medical Center (JCMC EMS), a 9-1-1 EMS system that operates an urban EMS system with over 90,000 calls per year. Steven oversees the clinical performance and quality improvement activities of the department.
Top 5 Recommendations for Improving Billing Efficiency with RescueNet Billing
Tuning up your billing department can be time consuming and painful we can all agree. Larry Cole of Kanawha County Emergency Ambulance Authority (KCEAA) will share how they boosted their billing KPIs with RescueNet Billing. Discussions will include the following:
Reduce your billing lag by half
Cut your denials up to 20 percent
Decrease keystrokes to speed up your revenue cycle
Improve DSO
Increasing total billing department efficiency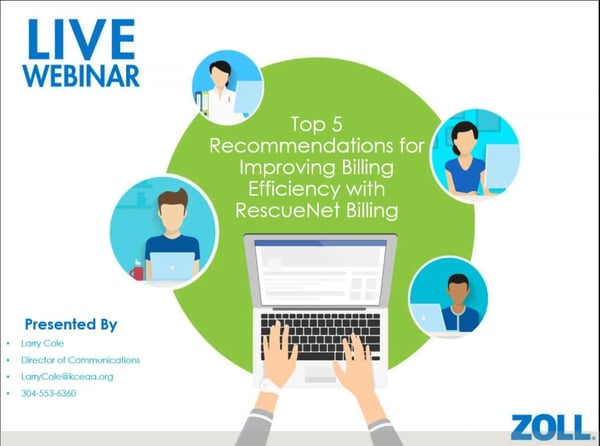 Larry Cole is a 30-year veteran of EMS, currently serving as the Director of Communications and Transport Services for KCEAA. Additionally He is heavily involved in EMS legislative activities working with other West Virginia EMS agencies and legislators in the furtherance of EMS statewide.
Top 5 Recommendations for Improving Comm Center Efficiency with RescueNet Dispatch
Ensuring your EMS Dispatch center enables your field operations to provide your community the care it expects is a dynamic challenge. For AAA Ambulance, maintaining overall system health and speed is the main concern. his webinar will review how our AAA Ambulance's communications center leverages ZOLL's Dispatch suite to ensure peak operational efficiency. Discussion points include:
Setting up your dispatch environment to ensure efficiency
Important role of shift supervisor
Maintain on time performance with a fluid response system
Using historical data for dynamic posting to improve response times in high risk areas
Using integrated technologies to compliment your dispatch solution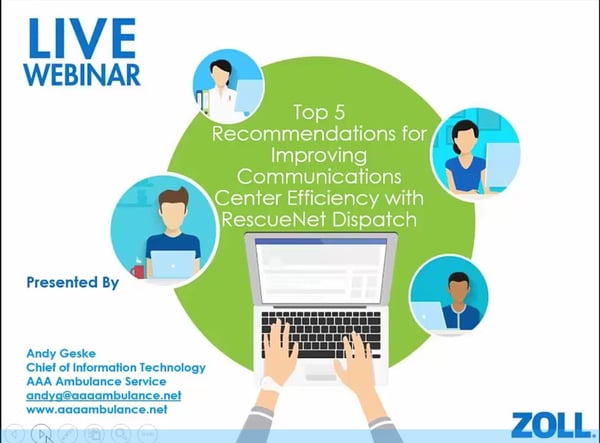 Andy Geske has been serving with AAA Ambulance Service now for more than 28 years, in various roles within the company; he currently is the Chief of Information Technology and Communications. Andy still functions as an EMT-Paramedic.
Top 5 Recommendations for Improving Fleet Safety and Savings with Road Safety
KPIs for fleet efficiency are there at your fingertips, knowing how to manage and interpret these pieces of data are key to a successful return on your safety program. This webinar will review how Butler Medical transport uses the data from Road Safety to make their patient, crew members, and other drivers safer, as well as improve overall vehicle health. Some of these KPIs include:
Overall Driver Score
Varying Time Periods
Spotter Violations
Engine Idle
Seat Belt Violations
Extreme Violations of All types