During National Safety Month, ZOLL joined the National Safety Council and thousands of organizations across the United States in raising awareness in how to keep each other safe and make sure everyone goes home. As part of that effort, we produced four webinars. Our in-house safety guru, David McGowan, spoke on how and when crews should respond emergent, and three EMS agencies shared their Road Safety stories in the three-part series: On the Road to Safety. If you missed one of these informative sessions, click to watch the recordings below.
Emergent Response: A Dangerous Epidemic in EMS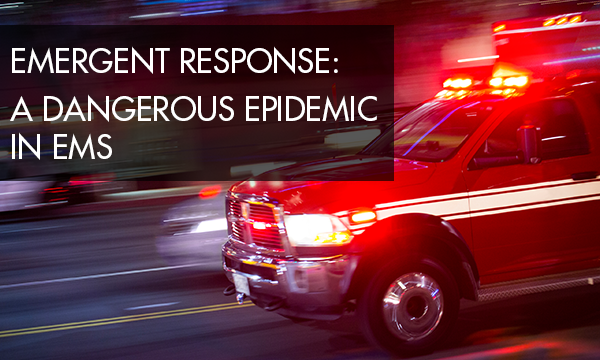 Ambulance service providers are beginning to recognize the dangers associated with crashes that involve vehicles in their fleet. Scientific research is showing a dangerous trend while operating ambulances. Ambulance crashes account for nearly 54 percent of the fatalities in EMS and 58 percent of those are while responding emergent. The costs associated with these events can cripple a business for years.
Beginning with a news investigative report, the presentation takes a controversial look at responding lights and siren from many different perspectives. David McGowan provides several different strategies to the following questions:
Whose expectation is it that EMS respond emergent?
Is the risk of responding lights and siren outweighed by the benefit of a favorable clinical outcome for the patient?
How do we re-educate EMS stakeholders on the dangers of emergent response and the move toward less of these responses?
In this 1.5 hour course, learn how to:
Heighten the awareness of the risks associated with operating an ambulance in an emergent mode.
Identify the hidden risk factors that contribute to the unsafe operation of an ambulance and the tactics to effect change.
Provide strategies to educate EMS stakeholders on the dangers of emergent responses.
Describe how to dispel the myth of "speed save lives" with evidence-based research.
Examine clinical cases where improved patient outcomes can be attributed to a faster response.
Presented by: David McGowan, ZOLL

#1: The Ugly Truth My Data Revealed About My EMS Drivers
Even though Florida Hospital's air services follow a strict resources safety checklist protocol before and after each flight, data from Road Safety revealed their ground crews' vehicle operator performance was so poor it made leadership at the hospital sick to their stomachs. They decided that if they wanted to operate more like their air operations they would need:
Safety management system
Committee to help with employee/crew buy in
Real-time data reporting
Change in overall culture
This 30-minute webinar addresses why these goals led Florida Hospital to choose Road Safety and the results they've seen since implementation.
Presented by: Margot Ververis, Florida Hospital
#2: Proactive vs Reactive: Using Teachable Moments to Change Driver Behavior
Sometimes there is an "A-ha! Moment" that leads to EMS organizations making the decision to invest in their organization's culture of safety. For Robert Wood Johnson University Hospital – Mobile Health Service (RWJUH-MHS), they used past experience to make a conscious effort not to wait for one of those moments to act. They wanted to invest in safety now; so they actively pursued a pro-active feedback system. Why? A reactive system would miss the opportunity for teachable moments such as correcting velocity, g force, etc.
In this 30-minute webinar, learn how the following four pillars as the base of their strategy to achieve a culture of safety led to RWJ's decision to implement Road Safety:
Provider safety
Patient satisfaction
Fiscal responsibility
Equal treatment
Presented by: Todd Sheridan, Donald Roberts and Les Polk, Robert Wood Johnson University Hospital – Mobile Health Service
#3: From Public to Passenger – How Unsafe Driving Habits Affect Perception & How to Change It
The first step in creating a culture of safety is identifying your organization has a problem. Thorne Ambulance used Road Safety to not only change their community's perception of them, but to boost their crews' belief they were committed to a culture of safety. In this 30-minute webinar, Ryan Thorne walks through five critical steps he took in order to create and nurture a culture of safety within his organization.
Presented by: Ryan Thorne, Thorne Ambulance