Making Your EMS Data Work For You
Whether you've already begun the journey to being a more data-driven organization or you are just getting started, there's a lot of considerations that come into play when determining what to measure and how to action the data that's coming in.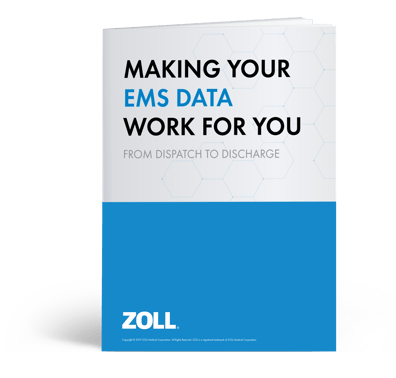 Overcoming obstacles and applying data insights across your organization
Our survey of EMS owners and professionals in 2018 yielded some eye-opening realities as to the current state of the industry. An overwhelming majority of EMS professionals reported that their top concerns were improving clinical outcomes, operational metrics, and compliance – but that creating a strategy to achieve measurable results was really difficult.
In this ebook, we help you do just that. Download the EMS & Data ebook today for actionable advice from ZOLL's experts on:
Why Measure Dispatch Data?
Improving PCR Data Collection & Analysis
Measuring Billing KPIs for Increased Revenue
Making Sense of Your Data
Data and the Patient Experience
Leveraging the Cloud for Better EMS Data Management