Do Your Own Internal Audit to Avoid External Review (and Reduce Denials!)
Protect revenue integrity and maintain compliance by assuring that money is not risked through overpayments or under-payments.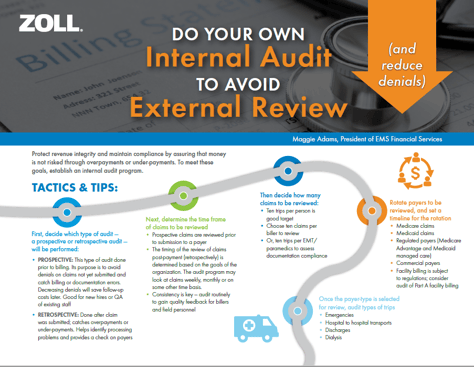 Learn step-by-step methods you can perform to conduct your own internal audits. An internal audit will help catch under-payments, overpayments and documentation errors so that legitimate revenue does not get missed. Conducting internal audits is recommended by the OIG as an important step to help maintain compliance.
This tip sheet will detail ways to mitigate errors, reduce denials and lead to improved cash flow and answer questions such as:
What is the purpose of internal auditing?
What is the proper approach to taking a random sample of claims for review?
Who should conduct the internal review and how frequently should it be done?
What is the difference between perspective and retrospective review and when is each type of review appropriate to perform?