ZOLL
®
AR Boost:
®
Transforming Healthcare Billing With a Modern Solution
Every healthcare billing department — whether EMS, hospital, physicians group, or billing company — needs a better way to discover and verify active, billable insurance coverage. Learn how to modernize your billing processes using innovative, healthcare insurance verification technology in this comprehensive white paper.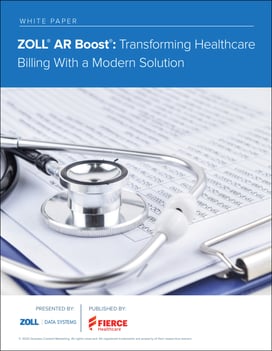 No need to go to multiple websites to run eligibility transactions — the information you need is consolidated
in a single point of access

.
Billing staff of healthcare service need effective, sustainable in-house processes to replace time-consuming and cumbersome manual searches. Why waste time hitting dead ends and having to write off debts when efforts fail?
Download this comprehensive white paper today and learn how the ZOLL AR Boost Insurance Verifier tool combines innovative technology with receivables expertise to triage patients' insurance coverage accurately in real time, including, co-pays, deductibles, secondary coverage and codes. Using real data and illustrative examples, we'll explain how you can achieve:
Higher clean claim rates

Up-front coverage determinations

Real-time capture of benefits and eligibility

Fewer claim rejections and payment delays