Healthcare reimbursement practices are under scrutiny, and payment levels are declining for providers from emergency medical services (EMS) to emergency medicine (EM). In order to negotiate effectively with payers on contract terms and rates paid under the No Surprises Act (NSA), providers need to have visibility into claims data and payer behavior. Such information could also provide a foundation for measuring performance and making strategic decisions to support the provider organization's commercial success.
ZOLL® Data Systems has introduced a new data service, ZOLL Claims Clarity, to fill these need gaps. Finally, healthcare providers and industry stakeholders can obtain actionable healthcare market intelligence on charges, payments, denials, and payer behavior to foster market transparency and help ensure maximum revenue.
By analyzing actual, de-identified claims data, the ZOLL Claims Clarity data service surfaces the numbers behind payer calculations and reveals competitive rates. Providers can see actual reimbursements from payers within a user-defined region and specialty without fear of breaking anti-trust or collusion rules.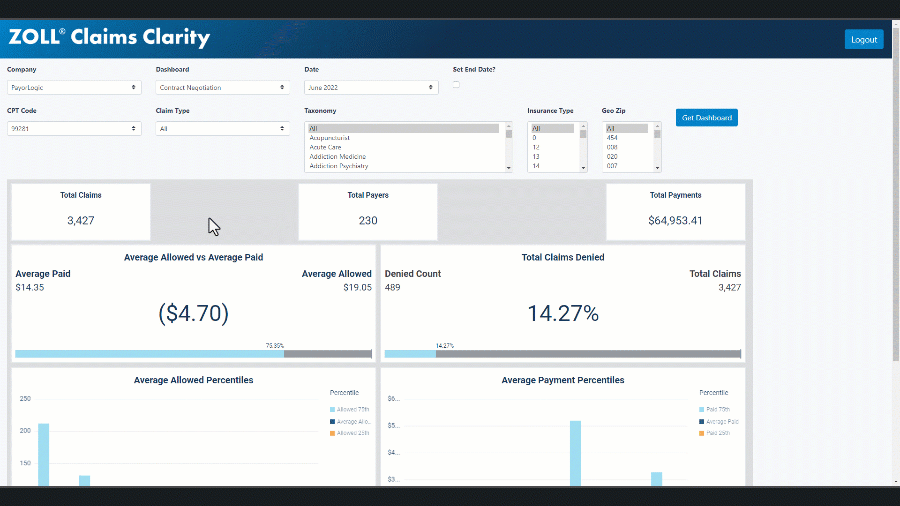 As a result, providers can now access reliable information to address commonly experienced pain points, such as:
Lack of insight into a payer's actual Qualifying Payment Amount (QPA) and median in-network rates, both of which can be used by commercial payers as justification during independent dispute resolution (IDR) for lower reimbursement to some specialties that have a high percentage of out-of-network claims
Negotiating payer contracts without knowing how their rates compare with competing providers in the same or similar markets — giving payers (who have this information) disproportionate leverage
Lack of information about the economics of their own competitive market to help evaluate fee schedules, service line additions, and business expansion plans
No industry data for medical providers, practices, and facilities against which to compare their performance and establish benchmarks and operational best practices

The ZOLL Claims Clarity data service delivers a myriad of benefits and can support a range of business use cases. It enhances providers' understanding of their markets and ability to make data-driven decisions so that they can compete more effectively and optimize financial performance.
Readers who would like to learn more about ZOLL Claims Clarity can visit the website or call 800-231-8573.
---
Read More About Unlocking the Value of Healthcare Claims Data:
Gain More Confidence and a Stronger Position During Open Negotiations and IDR