In a recent webinar Ryan Thorne, owner and CEO of Thorne Ambulance Services, discussed the success his company experienced after implementing Billing Pro. Here are some of the highlights:
Before Billing Pro
Today, Thorne Ambulance has over 80 personnel, a fleet of more than 20 vehicles, and an in-house billing department with three full-time personnel. That's a big difference from when Ryan Thorne started the business eight years ago – they were much smaller and had a lower call volume. At the time, they employed a third-party billing company but were often frustrated with their performance.
"We found that they had incredibly slow turnaround times on initial claims submissions," said Thorne. "There were several absences from our billing specialists – whether they were on vacation, taking sick leave, or whatever the reason was – they were missing work. We later found out that instead of assigning somebody else to our account during their absence, there was actually no work being done, leading to a significant lag and disruptions in our cash flow."
After trying another third-party billing company, the team at Thorne Ambulance still felt that they lacked control over the billing process. They finally decided to bring billing in-house and chose ZOLL RescueNet Billing to assist them in doing so.
"One thing we noticed right away was it increased our secondary insurance payments. We found that [bringing billing in-house] was an extremely easy transition from using a third-party to doing billing ourselves due to successful ZOLL implementation."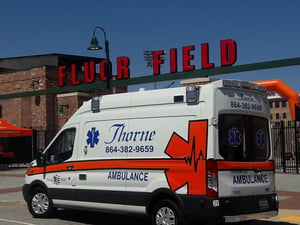 Switching to Billing Pro
Thorne Ambulance spent the next several years using RescueNet Billing, until Billing Pro was introduced in 2017.
"I was actually cornered by my three billers at ZOLL SUMMIT. They said that ZOLL had come out with a program that sounded so amazing – we had to take the chance and risk bringing this product onboard to see for ourselves how good it truly was," said Thorne. "So right then and there at SUMMIT we actually signed our contract for Billing Pro and began utilizing it the following month."
The transition from RescueNet Billing to Billing Pro was seamless. Thorne said that "it was really just more or less an add-on to the program we were already utilizing."
He went on to describe several key features of Billing Pro, such as the Social Security number search, the phone number discovery tab, and the address finder feature. Thorne said that the Social Security number search "really cleaned up our patient database so we don't have any duplicate patient records," while the address finder feature helped decrease the amount of returned mail they had before implementing Billing Pro.
According to Thorne, using Billing Pro was easy and organized: "The info is accessible on one screen versus several tabs. Instead of having to tab through and wait on the lag time between them, you have everything you need to build that claim right there in front of your eyes."
Increasing Payments with Billing Pro
Since implementing Billing Pro, the number of accounts receivable greater than 90 days dropped to 23 percent.
"We are extremely thrilled with those numbers and just cannot believe the success that we've had. Additionally, in the 12 months following the use of Billing Pro, our Medicare payments have increased by 31 percent. Our insurance payments have increased by 59 percent and our patient payments have increased by 79 percent. We believe Billing Pro's insurance discovery feature is the reason we're seeing these increases."
In 2017 Thorne Ambulance averaged 4500 claims per biller. They are expecting this to increase to around 5700 claims per biller for 2018. Billing Pro has helped increase the efficiency of the billing process so much that Thorne claimed, "In many ways we actually see Billing Pro as a full time biller based on the amount of time that it saves for our billing staff." According to Thorne, the company was also able to reduce billing lag time by 89 percent because of Billing Pro.
"Overall, coupled with the use of Billing Pro and our increase in call volume, we saw total payments increase by 116 percent."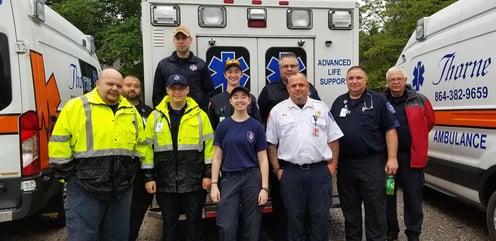 Further Success
The newfound stability in cash flow has given Thorne the ability grow and further invest in the company. Thorne Ambulance was able to make capital equipment investments such as ZOLL's X-series cardiac monitors and EMV+ ventilators, as well as Stryker power stretchers. "A lot of these accomplishments are directly based on the fact that our cash flows have stabilized. And it's all because of what we've been able to do with Billing Pro," said Thorne.
Thorne Ambulance Services has seen a tremendous amount of growth in the last year: "We've actually been announced as one of the 20 fastest growing companies in South Carolina and that is not healthcare specific—that is across all industries," said Thorne. "We attribute a lot of that success and a lot of that growth to a lot of the things that we've done and been able to do with Billing Pro."
Thorne continued his praise for Billing Pro and made a strong recommendation to the webinar participants: "We really believe that if you're going to use or if you're currently using RescueNet Billing and you do not have Billing Pro, you are absolutely missing out. It's a product that is going to pay for itself time and time again and you will never see a happier billing staff than those that are using Billing Pro."