(7 min read) As consumers, where do you and your families interact with cloud-based software? For many consumers, it started with taxes. Today, consumers and small businesses often do their taxes online because it has become so easy with online software. You may not need an accountant to tell you about tax code changes or the introduction of new deductions or tax credits. Online tax software automatically stays up to date with these changes. The software walks you through the process step-by-step to ensure that you take advantage of all possible deductions for which you qualify. This is done in an easy, question-and-answer format. The system also automatically formats your tax data correctly and facilitates electronic filing.
Since the introduction of online tax programs, you encounter cloud-based software daily. Do you use Microsoft 365? What about social media? Facebook, Twitter, and LinkedIn all use cloud computing. Do you have Netflix or Hulu at your house? These, too, are examples of cloud-based computing used every day. Maybe you also use cloud-based data storage, like Google or Dropbox to share photos with family members. All of these are examples of cloud-based software subscription services that many people have tried without giving it a second thought.
In the business world, cloud computing makes it easy to store and exchange data between organizations for efficient data analysis. For example, many healthcare providers are using cloud-based electronic medical records (EMRs). They provide doctors, nurses, and administrators with easy, yet secure, access to any patient's data. There are examples of cloud-based software delivery everywhere, and the advantages fall into four high-level categories:
Achieving c

ost savings

Gaining

specialized IT

e

xpertise

Having more flexible system a

ccess

Increasing d

ata availability
With cloud-based software, your in-house IT team or vendor no longer has to purchase and maintain dedicated servers to run on-premise software, saving costs. This frees up space and requires fewer IT and data security resources. You won't have to keep hiring and training people to build expertise in maintaining, securing, patching, and upgrading many different on-premise software solutions. This is all taken care of by the software provider and deployed to customers seamlessly and automatically. Hospital and EMS providers can stay focused on their core competencies in healthcare rather than diverting attention and resources to supporting infrastructure and software. The cloud software model also shifts the cost from major capital investments to recurring subscription expenses that typically scale in relation to usage.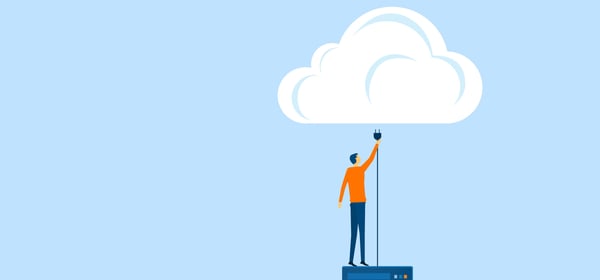 Cloud-based solutions are easy to adopt and implement. They're faster, and there is much less burden on your team. Perhaps you take on some configuration tasks in-house, but you don't have to deal with the complex and time-consuming customization typically involved with standing up on-premise systems. The focus shifts to setup and user training as opposed to hardware installation and software implementation.

Cloud-based software deployment also makes remote system access simpler, easier, and less expensive. On-premise systems are difficult to access remotely, and remote access can create security vulnerabilities. There are also additional costs that go with these systems, such as virtual private networks (VPN) and redundant, off-site data storage.
Clear Benefits for the Healthcare Industry
The advantages of cloud-based software compared to on-premise solutions are significant and directly address some of the biggest healthcare IT pain points:
Your team is

always using the most current version of the system

.

New features

and security enhancements

are rolled

out

automatically

.

There

are no

software

upgrades

and associated headaches

.

Integration across

diverse

platforms and devices

is possible.




Cloud-based solutions also can make data from more sources available to more users. Nowhere is the value of this capability more evident than in coordination between pre-hospital and hospital providers. For example, an EMS provider can communicate patient vitals and demographic information directly to the hospital while en route so that the hospital will be better prepared to receive and triage the patient appropriately. The advance communication of critical information, including treatment during transport and drugs administered, means that hospital personnel aren't relying on verbal and/or paper communication to be provided by the paramedics upon arrival at the emergency department. The hospital has the advantage of being prepared to rapidly administer emergency care the moment the patient arrives.
Improved User Experience
Another benefit of cloud-based software is its ease of use. It is readily accessed from a wide variety of devices, which appeals to users who work remotely or need access from an iPad, tablet, or smart phone. This is especially important to the newest generation of workers. The idea of having to go into an office to access software needed for work is a pre-historic concept for a good portion of today's workforce. The user experience with a cloud-based solution is also easier to navigate. It is guided and requires less upfront training, resulting in higher user satisfaction.
Risk Management
Adoption of cloud-based services started with areas deemed low-risk, such as consumer entertainment applications. Today, consumers and businesses alike use cloud-based platforms for email and productivity software on a daily basis. For at-risk services that demand higher levels of security, like banking, it took longer for robust solutions to be developed and for customers to adopt the new technology. When they first tested the waters, many did so with a company they already knew and trusted — one way to mitigate the perceived risk.
A similar transition is happening with commercial applications. Companies are transitioning from on-premise solutions to cloud-based solutions developed by trusted partners first. Most companies realize that selecting a lesser-known company just starting out in cloud-based technology or one that is new to their specific industry could place data and/or business continuity at risk. This is especially a concern in healthcare, where sensitivity of patient medical data and layers of compliance make transition to a new platform complex. There is no room for error, and any disruption in healthcare systems has a ripple effect on the quality of care. Stability, availability, and reliability are vital solution features.
Therefore, building risk management into a planned system transition is prudent. Typically, this means running both on-premise and cloud solutions in tandem for a short period of time and perhaps, hiring a consultant to assist with the change management process. Although the user experience with the cloud-based solutions is better, it is still undeniably different from what staff is used to. As with any change, some users will adapt very quickly, while others will require more time to adjust and become comfortable.
Timing the Move to the Cloud
It's not difficult to see why healthcare is taking its business to the cloud, yet the timing has to be right for an organization to convert. Determining the right time depends on several variables, including:
R

emaining functional life of the

on-premise

solution

Development of a detailed

transition and change management plan

Ability to minimize impact on customers

/patients and partners
The advantages in terms of cost savings, solution expertise, data access, and availability are clear and will help build a business case and projected ROI to determine the best timing for conversion to the cloud. This process will also help you select which cloud software provider is your trusted expert partner.
Here at ZOLL® Data Systems, we're helping many of our customers make this important transition with minimum disruption and maximum flexibility. In some cases, this means taking a hybrid transition approach, maximizing the remaining functional life of existing software investments in a hosted environment in which cloud-based infrastructure replaces on-premise servers. Knowing that there is no one-size-fits-all approach provides peace of mind for customers, as well as time to plan a transition tailored to their specific situation and needs.
There are numerous reasons for healthcare organizations to join many other business sectors and take their business to the cloud. With thoughtful planning and a strong solution partner on your side, the transition doesn't have to be scary or daunting. The benefits of the cloud far outweigh any perceived risks (many of which are misconceptions), and just like doing your taxes online or streaming your favorite movies, you'll soon wonder how you ever got along without it.
---
Read More About how the Cloud is Transforming the Healthcare and Emergency Response Industries:
3 Reasons Cloud-Based Solutions Make Good Sense for Fire & EMS