THIS SOFTWARE LICENSE ADDENDUM is subject to and made a part of the Agreement. Capitalized terms used and not defined in this Addendum have the meanings assigned to them in the Definitions Addendum at https://www.zolldata.com/legal
1. Applicability and Fees. This Addendum applies to any Software listed in an Order that has not expired or been terminated in accordance with the Agreement. Fees for any Software are set forth in the Order for such Software (the "Software Fees"). Except as expressly provided in the Agreement, Software Fees are not refundable.
2. Delivery. ZOLL shall deliver the Software to the address for the delivery specified in the Order for such Software. All shipments will be F.O.B. point of shipment. Risk of loss passes to Customer upon shipment.
3. Software. Subject to the terms and conditions of the Agreement, ZOLL grants to Customer a perpetual, non-exclusive, non-transferable license to: (a) install and use any computer software program listed in any Order and any modified, updated or enhanced version of such program that ZOLL may provide to Customer pursuant to the Professional Services or Maintenance Services (the "Software") in Executable Code in the quantity and accordance with the License Type specified in such Order for Customer's internal business purposes; (b) make one copy of the Software solely for backup or archival purposes; (c) copy and reproduce the user's manuals provided to Customer along with the Software (the "Documentation") provided to Customer solely for the purposes of facilitating Customer's use of the Software; and (d) install a duplicate system solely for training new staff members or testing configuration changes and software updates. Maintenance Services do not apply to this training or testing system and ZOLL reserves the right to charge additional fees for Maintenance Services on it.
4. Restrictions. Except as expressly permitted by the Agreement, Customer shall not, and shall not permit any third party, to: (a) use, reproduce, modify, adapt, alter, translate or create derivative works from the Software or the Documentation; (b) merge the Software with other software; (c) sublicense, distribute, sell, use for service bureau use, lease, rent, loan, or otherwise transfer the Software or the Documentation to any third party; (d) reverse engineer, decompile, disassemble, or otherwise attempt to derive the Source Code for the Software; (e) remove, alter, cover or obfuscate any copyright notices or other proprietary rights notices included in the Software; or (f) otherwise use or copy the Software or Documentation in any manner not permitted by the Agreement. Customer agrees to install and use the Software only in strict compliance with the applicable License Type and all of the other terms of this Agreement. Without limiting the generality of the foregoing, Customer covenants to comply with all limitations imposed by the applicable License Type with respect to the number of servers, personal computers and portable devices on which Customer may install the Software hereunder and the number of Customer users that may use the Software hereunder.
5. Warranty. Subject to Customer's payment of the Fees, ZOLL warrants for the 90-day period commencing on the Deployment Effective Date of any Software that such Software, when installed by ZOLL and used as permitted and in accordance with the instructions in the Documentation, will operate substantially as described in the Documentation (the "Software Warranty Period"); provided, that no Software Warranty Period shall apply to any type of Software previously licensed by Customer or any module for such type of Software. ZOLL does not warrant that the Customer's use of the Software will be error free or uninterrupted. ZOLL will, at its own expense and as its sole obligation and Customer's exclusive remedy for any breach of this warranty, use commercially reasonable efforts to correct any reproducible error in the Software reported to ZOLL by Customer in writing during the Software Warranty Period. Any such error correction provided to Customer will not extend the original Software Warranty Period. The warranty set forth in this Section 5 is qualified in its entirety by, and subject to, Section 3 of the Terms and Conditions.
6. License Types. Customer shall install and use Software in accordance with the type of license that has been granted in the Order for such Software ("License Type"). Software may contain a software license management tool (a "License Manager") that regulates Software use. Customer may not install or use the Software in a manner that circumvents or interferes with the operation of the License Manager or any other technological measure that controls access to the Software.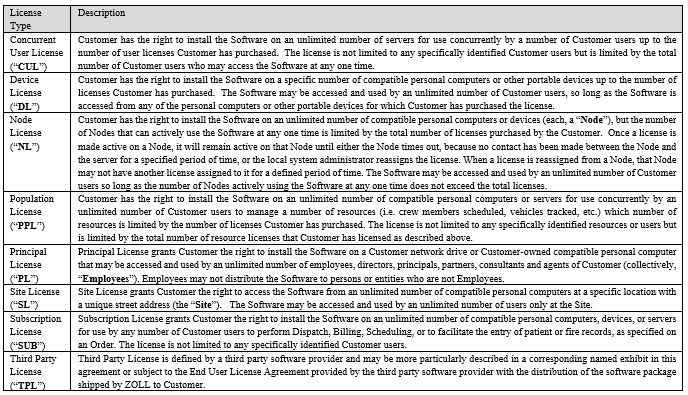 7. NEMSIS Extracts. If the Standard NEMSIS Extract is included as a line item on any Order, Customer acknowledges that it is being provided with the Standard NEMSIS Data Extract for the purposes of data reporting to Customer's specific state or states. While NEMSIS has established a standard set of reportable data elements, certain states may elect to collect data that is outside the scope of the documented NEMSIS Data Dictionary. For each state that defines such requirements outside this data dictionary, it is ZOLL's goal to develop a state-specific plug-in to the Standard NEMSIS Data Extract in order to meet these requirements. Should Customer require such a plug-in to the NEMSIS Extract in order to meet these state requirements, Customer must purchase a state-specific NEMSIS Plug-In from ZOLL when available.
8. ICC Codes. If ICC Codes are included as a line item on any Order, the Software provided to Customer under this Agreement contains information which is proprietary to and copyrighted by or licensed to International Code Council, Inc. (the "ICC Codes"). The portions of information copyrighted by or licensed to the International Code Council, Inc., have been obtained and reproduced with permission. The acronym ICC®, the ICC logo, (Insert Code Title) are federally protected trademarks and service marks of ICC. All other code titles are the trademarks and services marks of the International Code Council, Inc. Without advance written permission from the International Code Council, Inc., no part of the International Code Council, Inc.'s copyrighted or licensed material may be reproduced, distributed or transmitted in any form of by any means, including, without limitation, electronic, optical or mechanical means (by way of example and not limitation, photocopying, printing, or recording by or in an information storage retrieval system). For information on permission to copy the International Code Council, Inc. materials, please contact: Publications, 4051 West Flossmoor Road, Country Club Hills, IL 60478. Phone 1-888-ICC-SAFE (422-7233).
9. Insight Analytics. Provided the Customer is current on payments of Maintenance Fees for the Software, Customer may subscribe, at no additional charge, to ZOLL Online by agreeing to the terms of the Application Service Provider Agreement available on www.zollonline.com, pursuant to which Customer shall receive access, at no additional charge, to ZOLL's Insight Analytics product, subject to the terms of such agreement. However, ZOLL's provision of www.zollonline.com and Insight Analytics is not a material term of the Agreement and ZOLL shall not be deemed to be in breach hereof if www.zollonline.com or Insight Analytics is modified or discontinued.
10. End of Life. Notwithstanding anything to the contrary in the Agreement, ZOLL may cease providing any Software and support therefor upon at least six months advance notice to Customer.