(3 min read) In March 2021, Greg Howard, Director of National Interoperability Sales at ZOLL Medical Corporation, and Mario Sanchez, Product Manager at ZOLL Data Systems, presented a webinar on the value of aggregating COVID-19 data between emergency medical services (EMS) providers and hospitals to achieve a holistic view of the pandemic in a particular geographic location. The webinar covered the use of multiple data sources including computer-aided dispatch (CAD), electronic patient care reports (ePCR), and hospital or health system outcome data to:
Evaluate COVID-19 impact

on EMS

.

Make better-informed decisions around COVID-19 related

activities

.

Identify areas of opportunity to improve efficiency in serving suspected COVID-19 patients

.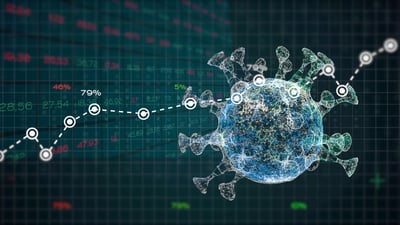 While aggregating data from multiple sources provides a more complete picture of COVID-19 patients in a particular community, it also highlights specific data that can be more meaningful for particular users involved in the patient care continuum. For example, at ZOLL Data Systems we get asked by hospital leaders about the rights regarding hospitals providing patient data access to EMS providers. This webinar outlines not only these rights under the Health Insurance Portability and Accountability Act (HIPAA), but how it is becoming a requirement in some states to effect EMS quality improvement (QI) programs.
COVID-19 has made significant impact across the spectrum in healthcare, from clinical to financial, and operational to workforce management. Aggregating data from multiple sources enables new levels of reporting. With this data EMS providers can, for example, see trends in:
The number of COVID patients transported by month

Where these patients are being transported from
Hospital admission by time of day

by

ePCR

and/or by

International Statistical Classification of Diseases and Related Health Problems (ICD-10

)

Presenting symptomology

Acuity by CMS classification

How long it takes an ambulance to get back into service

following the transport of a suspected COVID patient

compared with non-COVID cases

Length of hospital stay

Admission by age

, etc.
Aggregated data can also be useful in contact tracing, for example, by identifying which EMS provider transported the infectious patient. Pulling together data from multiple sources also allows the creation of robust dashboards that enable the visualization of geographic hot spots, which can impact resource allocation and community intervention.
Using ePCR solutions with HIPAA-compliant data security is just one of the ways to enable dynamic patient care records that tell the complete story of a patient. Leading ePCR solutions, such as ZOLL emsCharts,® also provide analytics and customized dashboards with real-time data feeds and unlimited user-defined reports. To learn more about how data aggregation improves COVID-19 understanding and decision-making and to hear about valuable action strategies, watch the webinar "Tracking EMS COVID-19 Exposures Using HL7 Data".
Read More About

Analyzing

COVID-19 Data
COVID-19 Workforce Impacts and Data Collection: A Study in Collaboration