The proposed Physician Fee Schedule (PFS) for 2021 increases reimbursement for office and outpatient E/M codes and thereby reduces the conversion factor by approximately 10.6% to maintain budget neutrality. The proposed conversion factor for 2021 will be one of the lowest in the past 25 years. This not only offsets the increase in 2020 for emergency department E/M codes, it creates a net negative effect to the PFS of approximately 6% for emergency medicine providers. The proposed 2021 rule undoes all the good work to attain equivalency achieved in 2020 and more.
There is agreement that the PFS must support patients' access to care first and foremost, yet front-line emergency providers are being targeted for cuts during a pandemic. "Emergency physicians are not eligible for inflationary adjustments, and reimbursements have declined roughly 30% over the past 20 years," according to Dr. Anthony Cirillo, Director of Health Policy & Legislative Advocacy, U.S. Acute Care Solutions.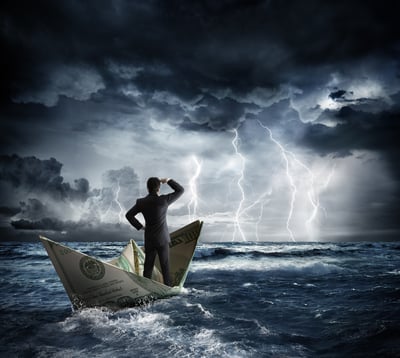 Other Factors Contribute to Gathering Clouds
Volume
Emergency department numbers have begun to rebound, but volume remains 15 to 20% below pre-pandemic levels. This may force the elimination of part-time staff, fewer available hours for less experienced physicians, and vacant/unfilled positions may remain so permanently.
Student Debt
Physicians' student debt burden, as well as the desire for career experience, purchasing a home, and raising a family, make the current economic situation very uncertain for physicians early in their careers.
Uninsured Patients
According to data from the National Center for Health Statistics, approximately one in seven emergency department patients is uninsured. "Emergency physicians enter a social contract when it comes to saving lives, even when patients are unable to pay. This contract relies on the other constituents in the healthcare ecosystem to fulfill their obligations, including holding commercial payers accountable," says Jeffrey Davis, Director of Regulatory Affairs at the American College of Emergency Physicians (ACEP).
Legislation
Uncertainty surrounding proposed surprise billing legislation puts additional financial pressure on vulnerable hospitals — especially rural hospitals. Emergency physicians must be considered in any surprise billing law.
Opportunity Emerges from Tragedy
There is an opportunity to reimagine how to deliver care over the next decade or more and ask how high-quality care can be provided at a sustainable cost, even while the Medicare Trust is running low and rolls are growing. Looking at options like expanded telehealth and examining how best to help hospitals with high volumes of Medicare, Medicaid, and uninsured patients must be considered with a long view when re-envisioning the U.S. healthcare system. "That includes keeping patients' needs top of mind while pursuing value. This may be one of the most important initiatives for us to tackle as a nation," says Cirillo

For the near term, advocating for hospitals to provide emergency physician subsidies is one option for closing the compensation gap. ACEP suggests some alternatives in its comments on the Medicare PFS proposals for 2021, including:


Delaying the implementation of the add-on code for complexity (GPC1X), estimated to free up more than $3 billion in 2021.
Implementing a 20% COVID-19 professional services claims-based payment adjustment.
Using the 1135 waiver authority under the public health emergency to waive budget neutrality requirements for 2021.
Increasing the value of emergency department E/M codes to bring parity with office and outpatient E/M codes.

Cirillo and Davis agree that implementing ACEP's recommendations would give emergency physicians a lifeboat to ride out the looming imperfect storm. Advocating for change has never been more important than right now. Read the full article.