In the unfortunate event that you or a loved one is transported by ambulance to a hospital for emergency care, wouldn't you want the hospital to be as prepared as possible for your arrival? Of course! This would include the hospital receiving the paramedics' initial diagnosis and learning which medications were administered en route and which treatments were performed at the scene and during transport. The average person wouldn't give too much thought to how this information is relayed. Yet, oftentimes, critical information is exchanged verbally, over the radio during transport or in person upon arrival at the emergency department (ED). Even for trained healthcare professionals, it's easy to inaccurately or incompletely capture all the details. Some data may be faxed to the ED during transport, but even then, the hospital must transfer that information into the patient's electronic medical record (EMR) manually.
Wouldn't a direct line between the hospital and emergency medical services (EMS) that transmits data in near real time be preferable? Aren't there significant advantages to giving the hospital team the time and information they need to prepare in advance for the incoming patient? The answer is yes — and HL7 data exchange (the standard language in which data is transmitted between EMS and hospitals, in addition to many other applications) makes prehospital-hospital interoperability possible.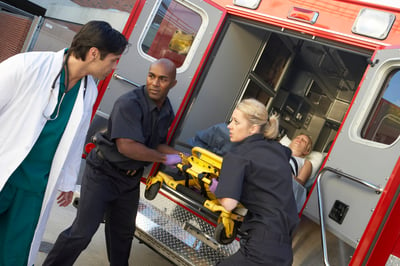 Faster Intervention, Better Outcomes, and

Operational Benefits
In the scenario described, a patient is likely to receive optimal treatment faster and experience better outcomes, thanks to the real-time collaboration between EMS and hospital providers. Hospitals also reduce HIPAA compliance risk (for example, when faxes containing personally identifiable information sit on unsecure machines) and reduce the time highly trained staff spends attending to administrative tasks. There is no doubt that HL7 data exchange is faster, more efficient, more likely to be accurate, and immediately accessible by both prehospital and hospital providers via their respective systems. With so many tangible benefits, why have most hospitals historically lacked investment in bi-directional data exchange?
The truth is that the value is evident for both EMS agencies and hospitals. That said, convincing hospital administration to assign scarce IT resources to what may be considered a smaller project can be extremely difficult. Articulating the more qualitative benefits as part of the business case for investment in HL7 technology can make the difference. In addition to the previously noted advantages for hospitals, EMS providers reap the benefits, too. For example, when a hospital sends patient diagnosis, treatment, and outcome data back to the EMS provider, the provider gains insight they can use to improve diagnosis and treatment protocols, as well as valuable billing information they may not have been able to collect before or during transport.
Getting outcome data back also helps EMS teams better distinguish those patients who truly require emergency department intervention and those who can be treated without transport or treated at an alternative location, such as an urgent care facility. This helps the hospital reserve the emergency department for the patients who need it most. Enabling EMS teams to better diagnose patients up front will also reduce hospital readmission rates and support EMS teams in treating frequent ED users in more cost-effective ways.
Through bi-directional data exchange, EMS providers can also receive the patient demographic and insurance data that they often lack, streamlining the billing process and thus improving their ability to submit a clean claim and capture revenue for services provided. Sometimes called "round-tripping," getting this data back from the hospital saves EMS providers time and resources because they no longer need to chase down missing data and can reduce the number of denied claims. Maximizing reimbursement from billable coverage is critical, since there is an extremely low chance of patients paying out of pocket for unreimbursed fees.
More Than a Data Hub:

a

True Collaborative Platform

for Saving Lives
The bi-directional exchange of information enabled between EMS and hospitals (HL7) is different than a what happens via healthcare information exchange (HIE). HIEs typically act as hubs that accept data from many different types of contributors so that it can be filtered, anonymized, and analyzed to produce reports and visualize industry trends by one or more applications. Many states now require electronic data transfer for a variety of applications, including reporting and compliance documentation. Municipal governments are starting to demand bi-directional electronic data transfer across participating healthcare entities within their community. While requiring providers to exchange data bi-directionally is not yet widespread, the trend is gaining momentum. As with most things, it's better to start working on technology enhancements before you find yourself facing a regulatory requirement and looming deadline.
In the near future, we can expect to see real-time transmission of data from the ambulance to the hospital, further enhancing the speed and quality of care. Imagine the ability to live stream data from heart rate monitors and see respiration rate and other key health indicators while the patient is in transport. Potential stroke patients, for example, could arrive at the hospital's cardiac cath lab, prepped with equipment in place and a cardiologist on stand-by. The earlier in the process these preparations are made, the sooner critical interventions can take place. Ultimately, the transformation in healthcare collaboration afforded by HL7 data exchange will result in more lives saved. That's a shared mission we can all support.
Read More About Bi-directional Data Exchange
Data Sharing Myth: HIPAA Prevents Bi-directional Health Information Exchange