(2 min read) The COVID-19 lockdown caused a rapid drop-off in routine labs and specialty testing. Even those that were processing COVID tests to remain in business were impacted by lower reimbursement rates and increased administrative expenses. For any labs that do maintain COVID testing, verifying patient demographic information has been particularly challenging. Patients often arrive at testing sites without their health insurance or Medicare card.
The government Health Resources & Services Administration (HRSA) program pays for COVID testing if there is no other payer to reimburse the laboratory. For the patients who arrive without their health insurance or Medicare cards, the claim submitted to HRSA is denied if the patient is found to have applicable insurance. It's up to the lab to spend time pursuing reimbursement from the payer.
Demographic verification and insurance discovery tools, and process automation save these labs significant time in finding accurate patient information and identifying billable insurance (or lack thereof). Insurance discovery and demographic verification tools, like those in the ZOLL® AR Boost® solution suite, relieve much of the administrative burden by automating the process of capturing, discovering, verifying, and enhancing patient information.
Improving the Patient Experience and Engagement With  Self-pay Analysis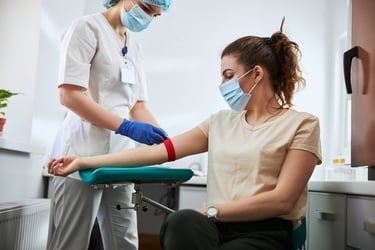 During the billing and revenue cycle management (RCM) process, every claim is treated as unique. Claims can bypass or be added to any step in the workflow that adds value. Using AR optimization tools streamlines accurate identification of each patient's unique financial characteristics.

Self-pay analysis tools are especially helpful, in combination with accurate patient and payer data, to reveal how likely the patient will be to pay. Having this information up front helps labs manage patients' expectations regarding their portion of the financial responsibility.

While no lab of any size can control the volatility in laboratory testing volume — during a pandemic no less — all labs can benefit from additional operational efficiency and reimbursement.

To learn more about how labs can employ revenue-enhancing best practices, read the full article.