As an EMS agency, what if you could reduce risky behavior? Reduce fleet costs? And improve patient satisfaction? EMS leaders in Missouri, West Virginia and Wisconsin share their thoughts on how ZOLL's Road Safety works for their light urban/rural high-performance services.
Protecting Union Drivers Led to Increased Patient Satisfaction in Missouri
The Northland Regional Ambulance District (NRAD) found they were able to use Road Safety to support their unionized workforce by promoting safe driving habits as well as improve the quality of patient transport in their vehicles.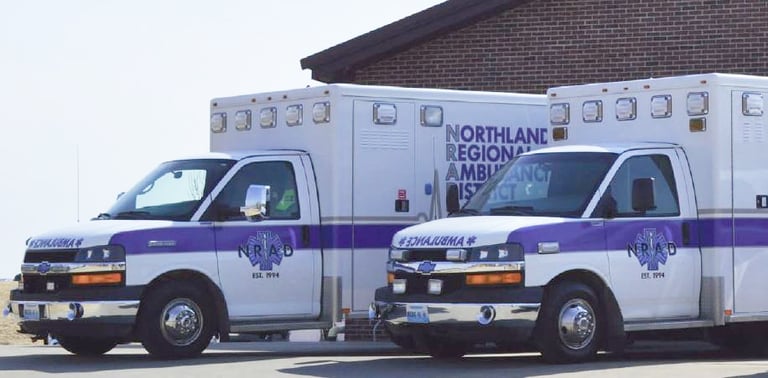 According to NRAD Executive Director Scott Roy, the rough ride issues haven't gone away completely, but as a whole, they are seeing far fewer incidents after they began collecting baseline data on their drivers. After they turned Road Safety's tones on (see how it works), they immediately noticed their vehicles began to consistently log better gas mileage. NRAD patients also cited a more comfortable ride in their satisfaction surveys.
Road Safety by the Numbers in West Virginia
West Virginia's Kanawha County Emergency Ambulance Authority (KCEAA) has known for years that steps needed to be taken in order to reduce the risks of driving. The authority outfitted its trucks with video cameras to document risky behavior and created an accident investigation policy that proved to be not only cumbersome, but it didn't end bad behaviors behind the wheel or save them any money.
KCEAA saw significant decreases in violations, including speed violations, which decreased by 88 percent.
KCEAA leaders realized it would take a larger investment to make an impact. After crunching the numbers on how Road Safety could help achieve their goals, they saw that the investment could save more than the cost. How would the Road Safety system provide them savings? By practicing safe driving, they could save 10-12 percent on fuel and 10-15 percent on maintenance.
Once KCEAA made the decision to implement the solution, which tracks and reports measures such as speed and turning, and braking and acceleration forces in real time, they saw significant decreases in violations, including speed violations, which decreased by 88 percent.
Wisconsin Rewards Safe Drivers
Wisconsin's Gold Cross Ambulance Service uses Road Safety to identify and reward drivers for safe driving practices. They score their drivers each time they get behind the wheel, average their overall score over the course of a quarter, and if the score is exemplary, they reward them with a $50 gift card.
What does Gold Cross do if drivers score low? Leadership uses it as a teaching moment. "We don't punish people, but I'll promise you this, if someone [scores low], I'm talking to them – I want to know why," says Mark Frederickson, Gold Cross CEO. Frederickson has seen significant success in that Gold Cross drivers have changed their behavior and tailor their operations to stay within the parameters and avoid marks on their record.
*This article was originally published in January 2017