Continuing its mission to design software and data solutions that help EMS agencies improve performance from dispatch to discharge, ZOLL® Data Systems has introduced its fully cloud-based, computer-aided dispatch (CAD) software, ZOLL Dispatch. Built from the ground up with user-centric design, this intelligent call taking and CAD solution automatically communicates response assignments to appropriate units, minimizing delays and giving users the power to deliver more quality outcomes efficiently.
In an emergency, every second counts. Yet, it's a constant challenge for dispatchers to quickly get the right level of care to patients with as few manual steps as possible.
According to Danielle Côté, Product Owner at ZOLL Data Systems, "Dispatchers and call takers are often working solutions that are not intuitive and have functionality gaps, like an inability to visualize the spatial elements of a call or to capture demographic and insurance data. These gaps require users to incorporate manual processes to manage their work and assimilate information from multiple sources."
While this situation is common in the EMS industry, Côté adds, "Dispatching effectively in a manual environment means relying heavily on dispatcher experience and intuition to make the best decisions. It's not ideal for agencies that have a range of talent and are striving for the best possible outcomes every time."
The ZOLL Dispatch solution is designed to align response with transport need, and optimally position vehicles and crews for swift response. Because ZOLL Data Systems worked closely with customers during product development, the resulting software perfectly fits the way dispatch teams work. The highly visual user interface is intuitive, organized, and presents all the information users need in a single view. Drop-down menus follow workflows naturally, and a live map view of the service area makes monitoring locations and status of fleets, as well as incidents in progress, a snap. Real-time situational analysis capabilities reduce effort and drive better dispatch decisions across the board — regardless of user experience level.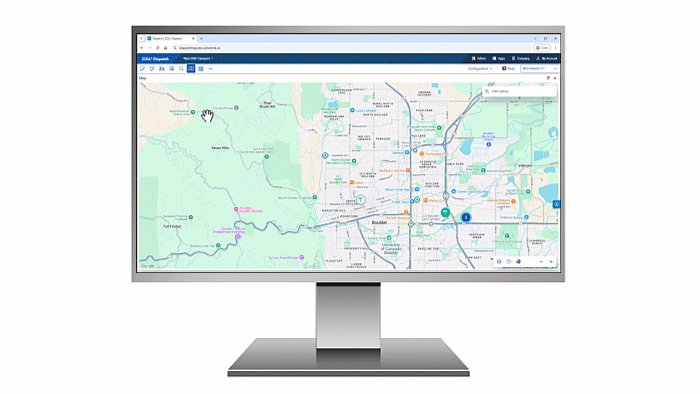 Benefits for EMS Dispatchers
Enables efficient, cost-effective resource utilization
Minimizes response delays
Keeps dispatchers on top of trips
Rapidly identifies the right resource
Simplifies fleet monitoring via real-time map
Prepares dispatchers for incoming incidents
Intelligently estimates time of arrival (ETA) and ranks available resources
Benefits for EMS Agencies
Enables easy remote access
Reduces cost of ownership
Lightens maintenance burden
Scales in response to business needs
Integrates with ZOLL Billing and ZOLL emsCharts®

 

helps improve clinical, operational, and financial performance
Communicating with crews is easier with ZOLL Dispatch, too. Less time talking on the radio means more time to focus on patients. When paired with the ZOLL Respond mobile companion app, dispatchers and crews can cut comm center chatter and increase efficiency by exchanging data non-verbally. Trip status updates, trip management, and mileage calculations can all be shared automatically. Crews also benefit from integrated GPS with turn-by-turn navigation and visual and audible trip response alerts.
Because ZOLL Dispatch is cloud-based, it offers significant cost savings and low maintenance requirements compared to enterprise solutions and on-premises servers. It is also highly scalable in response to business needs and supports a modern workforce with easy remote access at no incremental cost. Moreover, ZOLL Dispatch is part of an integrated EMS solution suite that includes ZOLL Billing and ZOLL emsCharts.®
Intuitive and flexible, ZOLL Dispatch software can help EMS agencies respond faster and make better decisions. Users will appreciate the map-centric fleet monitoring and simplified transport scheduling features. With anytime/anywhere access via a web browser, and enhanced collaboration with crews via ZOLL Respond, ZOLL Dispatch is the easy choice for EMS agencies looking to elevate the quality and efficiency of their dispatch operations.
Readers who would like to learn more about ZOLL Dispatch can visit the web page or request more information by calling 800-231-8573.