Effective communication in emergency medical services provides two-way and real-time capabilities, delivering messages efficiently to and from dispatch, crews, and supervisors. ZOLL® Respond is a convenient communication tool, utilizing features that allow for effective communication, including:
View and accept incoming trips​

Navigate pick-up and drop-off points​
Dispatcher-to-crew communications​
Video chat
Google map-based routing & traffic​
Broadcast alerts
Supervisory functions

View and Accept Incoming Trips
Users can view active trip information within the application, including computer-aided dispatch (CAD) comments and the ability to be marked en route. Any last-minute trip changes and additions can be seen here as well. Crews in the field no longer need to spend time calling dispatch for this information.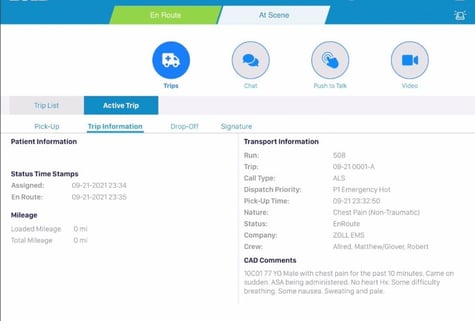 Navigate Pick-up and Drop-off Points​
Google traffic information and audible navigation is available to users through clicking the Go icon. Field crew and dispatch can update transport priority and drop-off locations during a trip. Dispatch is still in complete control. In the event that a patient is too critical for crews to send updates, dispatch can update information through the dispatch application, which will be reflected in ZOLL Respond.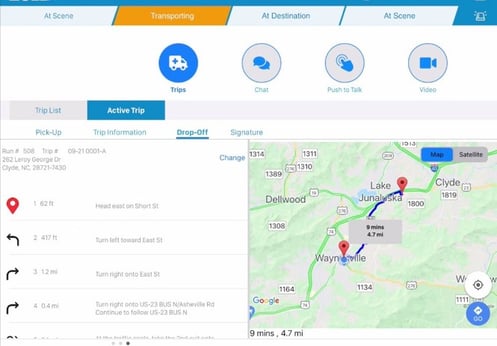 Dispatcher-to-crew Communications​
When dispatch needs to alert crews of a trip-reroute — such as a hospital request that all ambulance units hold their patients in the ambulance until triage nurses approve entrance — crews can receive that secure communication from dispatch through the ZOLL Respond app. While it facilitates dispatcher-to-crew communication, it also allows crew-to-crew communications and supervisor-to-crew communication.


Video​ Chat
This is a secure way to facilitate crew-to-crew or supervisor-to-crew information in real time. Video chat can be used to communicate how the patient is presenting or to communicate with supervisors if there's damage on an ambulance.


Google Map-based Routing and Traffic​
Traffic information through Google provides the quickest route based on live traffic information with the capability to adjust locations. Alternate routes are provided as additional information to crews. Pick-up and drop-off locations can be changed by dispatch mid-route if necessary, updating crews in real-time.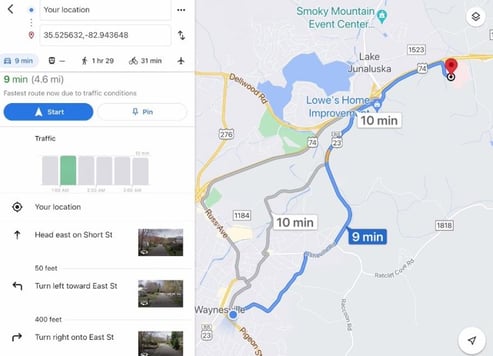 Broadcast Messaging​
This one-way communication feature allows dispatchers and supervisors to send pertinent shift information to all active crews that are currently active in the ZOLL Respond application. The messaging goes out as both an audible alert and a visual alert displayed in bold red.



Supervisory Functions
Supervisors can view the trip list which shows all trips in list format. This list is filterable and sortable so that supervisors can customize based on their needs. For example, an ALS supervisor and a BLS supervisor can filter calls based on either call type or ambulance type. Supervisors can also see real-time vehicle locations. Crews requesting help from a supervisor will receive a quicker response through this feature, as supervisors can route themselves easily.


Effective Dispatch-to-crew Communications
Emergency medical services require effective communication efficiently to and from dispatch, crews, and supervisors. ZOLL Respond is an effective tool that allows for better patient care through efficient and effective communication between dispatch, crews, and supervisors.
---

Read More on

Effective

Dispatch-Crew Communication:
Using Mobile Devices for Connected Communication Transforms EMS Dispatch