National Emergency Medical Services Information System (NEMSIS) enables local and state emergency medical services (EMS) databases from across the nation to be linked and share critical information. Which basically boils down to improved analysis of EMS systems and patient care; comparison of data across jurisdictional and state boundaries; and better evaluation of the EMS role in healthcare. Pretty cool, right?
ZOLL RescueNet ePCR Achieves Latest National Compliance Standard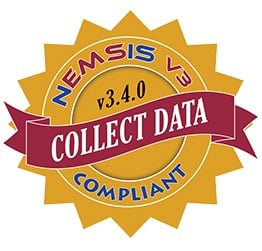 Last year, NEMSIS released its newest version of standards: 3.4. It took version 3, which helps ensure EMS provides the best possible data for evidence-based care, and continues to improve the quality of data for EMS. Why is it important to be up to date on NEMSIS? As of Jan. 1, the National Highway Traffic Safety Administration (NHTSA) closed down version 2 and expects to have all 56 states and territories all up to date (using version 3) in three years' time. So change is in the air.
Dr. N. Clay Mann, principal investigator of the NEMSIS Technical Assistance Center, shares the top four ways the newest version of NEMSIS will impact you and your organization.
1. Web-Based Data Exchange
The biggest value, according to Dr. Mann, is that data is exchanged via web services. States using version 2 only sent data to the national repository once a quarter. Compared to other registries in the United States, the quarterly data exchange was relatively rapid, but it couldn't be used for real-time benchmarking. Now, data is available in close to "real time", which will allow EMS providers to get a better handle on how well they are performing in regards to other agencies, and then benchmark performance against state and national values.
"Every patient and EMS provider has a voice in the national registry. Every call you go on – with good or bad outcomes — is represented," Dr. Mann said. "The accuracy of this data is invaluable for research purposes and is vital to the daily assessment of the care you offer."
2. Improved Data Quality
The quality of data collected was also improved by adding pertinent negatives to the database, which allows a provider to indicate when (and why) a procedure wasn't offered. Version 3 also provides a national set of business rules to ensure equally "clean" data across the country. The enhancement in business intelligence will guide and help EMS professionals look for possible "fat fingering" in the record, ensuring that data are accurate before being sent on to the agency, state or national repositories.
"We are still in the beginning stages of figuring out how to improve data quality, but not hinder EMS' ability to perform well," Dr. Mann said "It's still a little clunky; but I believe in the next two years, we will be able to better balance data quality with efficient patient care performance, greatly improving the provider and patient experience associated with collecting patient care information."
3. Provider Performance
"The newest NEMSIS version will also enhance our ability to highlight provider performance and help our stakeholders understand what we do in the pre-hospital setting, in real time," Dr. Mann said "A better understanding of how and what we do, will allow EMS value and performance to be accurately evaluated. Once every state has migrated to version 3, it will truly be ground breaking; in that the value EMS provides communities, will be clear to see." Roll out has been similar to version 2, but is trending faster with 17 states and territories having already adopted version 3. Lastly, shedding light on the care we provide will also enhance innovation in our field. You must be able to tell an accurate and compelling story to engender opportunities for innovation.
4. HL7 to HIE
"Finally, NEMSIS version 3 will help synchronize clinical content that happens in the prehospital setting with follow-up care in the hospital," Dr. Mann said. "Version 3 makes possible the exchange of data through differing repositories, including Health Information Exchanges (HIE)."
How to Get Your Hospital Partners to Share EMS Data
Omaha Fire recently unveiled its vision to share patient data with local hospital partners during a webinar focused on Integrating EMS with the Healthcare System. Omaha Fire will be the first in Nebraska, and one of the first Fire Departments in the United States, to use/collect NEMSIS 3 data for EMS runs. "This led me to think about what we could do with the data," said Captain Melanie Bates with Omaha Fire. "We realized we had a tremendous opportunity in front of us regarding the potential for NEMSIS 3 harmonizing with HL7 (Health Level 7), the international standard for exchanging patient information with hospitals. NEMSIS 3 and HL7 could bring our hospital partners to the table to work toward a unified vision for sharing patient information. According to a quick poll we took at the conclusion of the webinar, many of my EMS colleagues also have a similar vision."
For more information about NEMSIS, visit www.nemsis.org.