ZOLL SUMMIT Keynote Speaker Series: Behind the Scenes with Jan Rader
"Fire chief Jan Rader has spent her career running toward fires and training the next generation of firefighters to do the same. And right now in West Virginia, our biggest fire is the opioid epidemic" said Joe Manchin, U.S. Senator of West Virginia.

A Native of Ironton, Ohio, Jan Rader joined the Huntington Fire Department in August of 1994. Ms. Rader is the first woman to reach the rank of Chief for a career department in the State of West Virginia. She holds an Associate's Degree in Occupational Development from Marshall University and an Associate's Degree of Science in Nursing from Ohio University. Jan holds many fire service certifications and is also a Fire and EMS Instructor in the State of West Virginia. Since November of 2014, Chief Rader has been serving as a member of the Mayor's Office of Drug Control Policy. The purpose of this task force is to address drug addiction in Huntington and the surrounding communities and create a holistic approach involving prevention, treatment and law enforcement.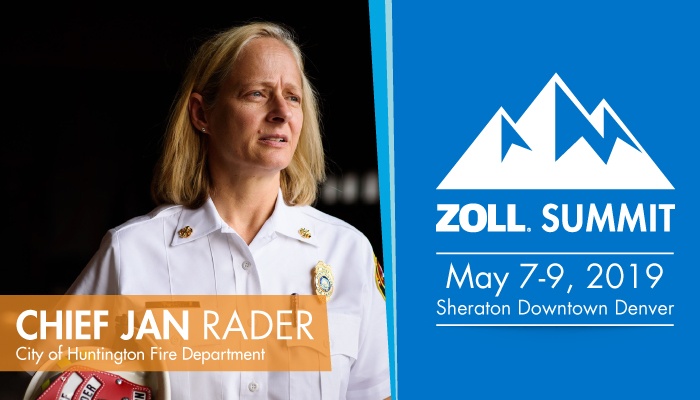 Jan recently came to national prominence after the release of the short documentary "Heroin(e)" by Netflix in September of 2017. Then in April of 2018, she was chosen as one of Time Magazine's list of the 100 most influential people in the world.
Q: How does someone in your position stay positive or make positive change, when you're confronted with the negative effects of this crisis daily?
A: Well, at times it can be difficult. I choose to focus on the positives, one person at a time. One life at a time.
Q: What can the rest of the country/general public do to help make a positive impact on this crisis?
A: The biggest barrier with this crisis is the stigma associated with substance use disorder. This is not a moral failing, it a disease. As fellow human beings we can make a difference by just being kind and listening. Try not to judge and treat others as we would want our loved ones to be treated if they had an illness or disease.
Q: How does it feel to breaking barriers for women in the fire and emergency medical field?
A: At times it can be a bit more challenging since it is a male dominated field, but that isn't why I chose this profession. I chose firefighting because I wanted to give back to my community and help others. If doing my job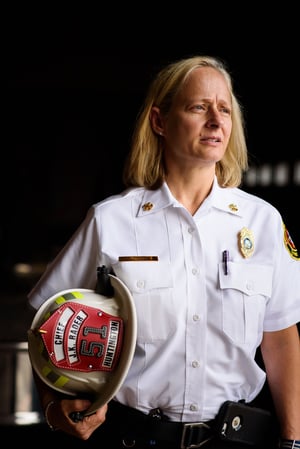 means breaking barriers, then it is a bonus!
Q: As a role model for aspiring women, what do you hope that others can learn from you and/or your work?
A: That anyone can make a difference and we should not let others tell us we cannot do something because of our gender, size, or the color of our skin.
Q: What's the biggest challenge you've faced in your professional career? How did you overcome it?
A: The biggest challenge of my career is now. Maneuvering my department through new territory. This is a challenging time for all leaders in the fire service and I have no doubt we will emerge stronger than we were before.
Q: What's the best piece of advice anyone's ever given you?
A: Form your own opinions about people and situations based on your own interaction(s) with them instead of based on what others tell you or what you read on social media.
Q: What was the worst piece of advice?
A: I had several people advise me that I should not take a job in the fire service since I was a woman.
Q: What motivates you every day?
A: Making positive change, even if it seems slow.
Q: What habits keep you sane in a career that can be incredibly stressful?
A: Mediation, enjoying long hikes with my dogs, and spending time with loved ones.
Chief Rader will deliver her keynote address on May 7, titled "Making Positive Change During America's Opioid Epidemic." The address will focus on how the small community of Huntington, WV chose to own the problem and become the center of solutions. Chief Rader will share their significant journey – register below to make sure you don't miss out.